Glove Radar For Baseball & Softball
Main
Improve your throwing skills with accurate doppler radar speed measurements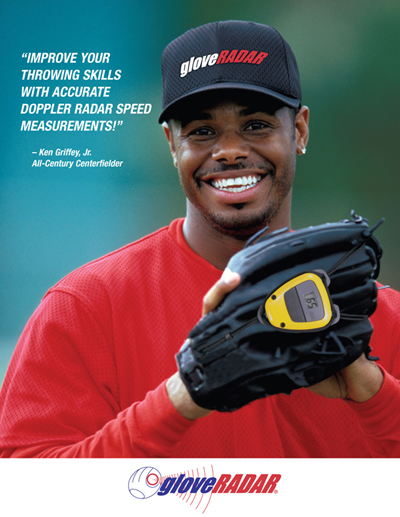 The Glove Radar is a small, lightweight device that attaches to the back of any ball glove, 'sees' through the glove, and measures the speed of baseballs or softballs just before they are caught. It is used to help develop the proper throwing mechanics of infielders, outfielders, catchers as well as pitchers, by providing immediate ball velocity feedback to reinforce coaching instructions.
It is a very low power radar that attaches to the back of any ball glove and can "see" through the glove.


The Glove Radar is not an impact sensor or timer but is an actual Doppler radar, like conventional hand-held sports and police radar speed guns.


The Glove Radar accuracy is comparable to that of the more expensive radar guns when measuring ball speed in the same relative location (into the glove).


When using the Glove Radar you can throw from any distance and measure the speed of the ball just before it is caught. Measure speeds from 20 km/h to over 160 km/h.


Everyone has fun using the Glove Radar. Tie it on your glove and turn it into your own radar speed gun!!


No need for a third person to hold/operate a measuring device. No need to use a special ball, use the same ball that you play and practice with.


Endorsed by Ken Griffey Jr., All-Century centerfielder. One of the most prolific home run hitters in baseball history and 10 times Gold Glove Awards winner.


"The Glove Radar® is a great teaching tool. I coach a 12 year old team and the kids can't get enough of it. When the kids get the proper mechanics down, you see their velocity go up. We also use it to measure bat speed. I'd recommend the Glove Radar® to any youth baseball team."
– Pat Tabler, former major league baseball player.


Buy Now!